From Manikkam Shanmugam: August 9, 2016
Questions:  I enjoyed the 26 episodes of the Ponnivala family story from Kongunaadu. (mp4 files in a USB drive). The animation and color is phenomenal. I have the following thoughts and questions. I think the story is further justification that one has to pay for their sins – mistakes either in this life or in coming lives. A classic example is… without finding out who was responsible for Kolatha Koundar's fields being decimated, he instrumented a deadly trap… which killed cows, sacred to Hindus… and future generations pay for that. What confuses me is – why were Ponnar and Shankar agreed to get married and immediate relegate their wives to a life of isolation?
Answers:
Dear Manikkam,
These are good questions.  I have wondered about both these matters too.  Here is what I think:
The Story About the King's Cows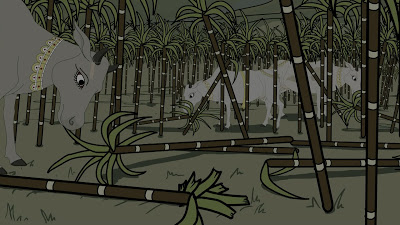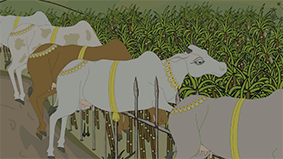 Yes, Kolatta could have done more research into what kind of animal had trampled and eaten his sugarcane.  He also didn't need to build such a dangerous fence to protect his crop.  The barrier could have been built a little higher so that spikes were not needed.  But one could fault the cows too.  Their leader was too zealous and too self-confident.  She could have counselled her friends suggesting that they go and find the farmer.  The cows could have shown him the tags on their necks.  If they had asked politely for some food Kolatta's heart would have melted and he would likely have helped them.  We can also say that the sister cows followed their leader too blindly.  They should have questioned her and stated that they didn't think they could jump that high.  They could have told the lead cow that her idea was too risky to try. They could have asserted their right to an opinion and said that they could not accept her dangerous idea.  IN SUM, both sides could have handled the situation better.  Both sides could have found a more creative solution to their joint problem.  I think we can see more in this story than just divine punishment for wrong-doing.  The story suggests to me that we ponder our own actions more deeply.  We can hopefully do more to solve challenges in life non-violently, especially by thinking more creatively and not acting in haste.  I believe the best stories are ones that are intended to help us think hard and push aside the boundaries and assumptions that bind and separate us from one another.
The Story About the Twin Heroes' Brides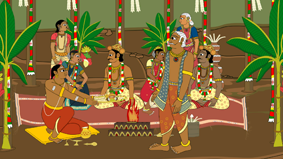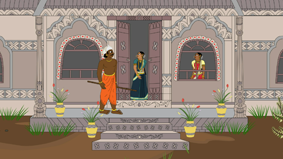 Yes, it is terrible to think about what the story tells us: that two young brides were locked up in an isolated castle home, forever, just an hour or so after their marriage to the heroes.  But if we look at this event from the heroes' point of view we can understand a little bit better why this happened.  The heroes had a dilemma. They wanted to be traditional ascetic warriors following a widespread medieval Indian tradition (probably hoping to be something like Nath yogi warriors).  This meant they had to be exceptionally pure.  They would not be allowed any sexual interaction with women at all, not even with their own wives.  This kind of purity would give them extra fighting power and help them better defend their family's honor.  They could have chosen not to marry.  But their mother was insisting on it, to the point of losing weight by not eating.
She looked as if she would die.  So the heroes had to choose between obeying their mother's wishes and their wives desire to enjoy normal wedded lives.  The two men in the third generation of this story chose to uphold their mother's request and (and likely) save her from death.  But this did mean that their wives would have to suffer in jail-like isolation.
Again, as in the above story about the cows, I think this sub-tale asks us to consider what might have been done to find a more creative solution to the heroes' dilemma?  Yes, we could argue that the heroes' decision to lock up their brides was self-centered, cruel and sexist.  But we could also say that their dual wedding was performed in too much haste, that the two brides could have asked questions, could have been more assertive, could have begged the gods for help, and more.  Furthermore, surely the mother knew her sons well.  She must have known why they were resisting marriage.  She could have shown some foresight too, and some empathy for the brides-to-be.  Stories are not always about kind and generous people.  Usually they are intended to make one think.  To SUM UP: Who are the real heroes in this epic tale anyway?  When the brides die right after their husbands perish, in a fire that their sister-in-law sets, they are cast in a light very similar to that of "satis" (women who immolate themselves on their husband's funeral pyre and are afterwards honoured for that personal sacrifice).  Does this make the two wives heroines?  Does it make them into local saints?  This is a good story precisely because it leaves important questions like this unanswered.  Its truths are largely buried in ambiguity, becoming puzzles that are laid out for the listener/reader to ponder.  Story heroes and heroines are many things.  Different people honor them for different reasons.   Can we find parallels for these kinds of actions in modern times?  Perhaps yes.  Perhaps this story can help to think about that kind of question.