WHY ARE PEARLS BEING USED TO PAY THE ARTISANS?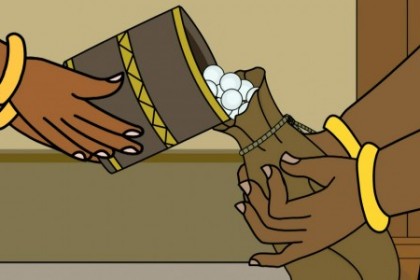 This new clip is quite straight forward but has been included as a possible teaching point for younger students. The scene starts with several good views of the fence being built followed by a wider vista of the artisans' finished work. Clearly this fence is a vicious obstacle. It has been designed to severely harm any animal that might try to jump over it (see my last blog, post 1.26). Heard behind these several scenes is a song taken from the original story's tape village recording as bards sang it to a live audience in 1965 (see log post 1.2). One can "hear" the tone and style of the song in this particular clip because no narration has been laid over it. The bards one can hear are signing about the artisans' workshop and the fine work being accomplished there. You can almost hear the sound of their hammers in the beat being used!
Click here for more information.