WHY IS THIS CRADLE EMPTY?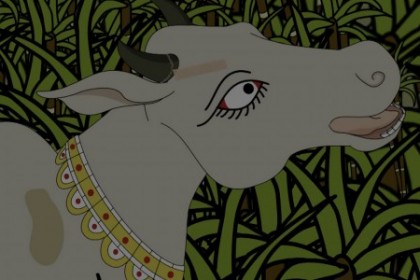 In the last clip, and its associated blog, we saw seven poor cows die cruelly on a staked fence. Although my comments interpret this as a sacrificial event, the cows themselves are innocent of this larger picture. Yes, they jump deliberately, but with the hope that they will sail over that fence rather than land on its vicious spikes. That fails to happen. Now, in this clip, we first see the spirits of those poor cows leaving their dead bodies. Their afterlives, depicted now as shadows, quickly float upwards to the edge of Lord Siva's own Council Chamber. Lord Siva notices their arrival, of course. He quickly asks: "Oh cows! Why have you come to see me?" The cows retell the events that led to their tragic death in Ponnivala, but without naming the farmer Kolatta directly.
Click here for more information.