SHOULD SACRED COWS BE ALLOWED TO RUIN THIS FINE SUGARCANE FIELD?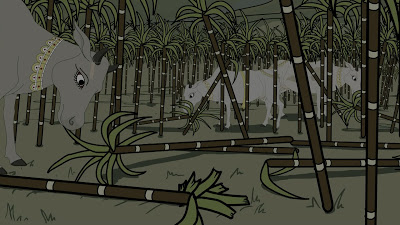 Now, immediately on the heels of the drought described in
my previous blog(post 1.24)
, a second disaster unfolds in Ponnivala. The problem begins as the Chola's ear-tagged cows reach Kolatta's lands and find his finest field. It stands out for its tasty, near-mature crop of sugarcane. The cows eye the delicious-looking stand of tall stalks with hunger in their eyes. But they know that the owner will be upset if they enter the field and start to trample the sugarcane as they munch on it. In a nice mythical touch, these cows can speak to one another using human-like voices. Soon we hear one "sister" cow warning the others that they risk a beating if they enter this fine field during daylight hours. So they decide to delay this prospective feast and instead hang around in a wooden area where they will not be seen… until after dusk.
Click here for more information.