WHO IS GOING TO WIN THIS KEY CONTEST: THE FARMERS OR THE ARTISANS?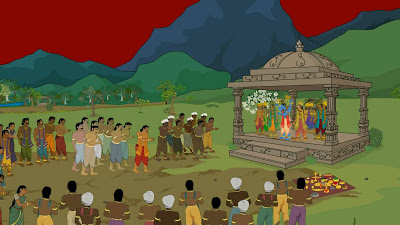 The story now reaches a crisis point. Lord Vishnu himself is calling for a formal ritual confrontation between the two contestants in this major socio-economic dispute. Everyone has gathered at the ritual ground, right at the edge of the Kongu (Ponnivala artisan) territory. The location is next to the great Kaveri river. There is a ceremonial platform (mandapam) already here. The place has been used for ritual gatherings before! The mountains in the background proclaim that we are up river from the Chola's place, near the ring of hills that encircle the Kongu area. All three kings (the Chola, Chera and Pandya) are standing on the ceremonial platform when Lord Vishnu makes himself visible (a preliminary event not shown or discussed until post 1.17). The great god first announces that the Chola King wants to give the Ponnivala area over to a group of farmers to plough and to plant, but that the artisans have refused. His tone alone suggests that he disapproves of the artisan's stand and that he backs the Chola's plan.
Click here for more information.