WHEN DOES A SIMPLE BOUNDARY STONE SPELL TROUBLE?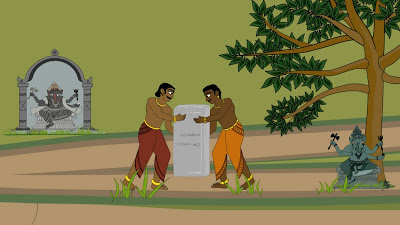 We now enter a new era, so to speak, in The Legend of Ponnivala story. The immigrant farmers have already arrived and are ready to settle in. And, after the happy outcome of Vishnu's impressive ceremony, they are able to claim a legitimate god-given right to bring the lands of this remote region under the plough. These same plough-wielding farmers also have the clear backing of the powerful Chola king. After all it is he who has sent them to this area in the first place. These men are thus doubly empowered to begin their new way of life in, what is to them, a new land known as Ponnivala.
Click here for more information.