IS THE OUTCOME OF LORD VISHNU'S COVENENT FAIR TO ALL?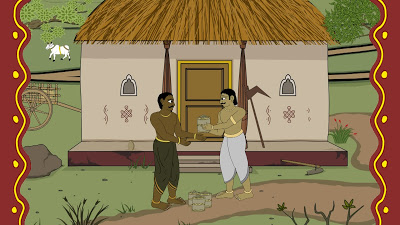 I have essentially already answered this question in the negative, in several previous blogs. However, the actual contract Vishnu imposes on these farmer–artisan rivals is worth reviewing in detail. It is that contract which I will discuss in more depth here. Vishnu starts the clip by publically declaring that the lands of Ponnivala will now be given over to the newly arrived farmers so that they can create fine, ploughed fields. He then lays out the exchange rules. These are to consist of a mix of two kinds of payments. One the one hand each farmer will pay four measures of grain to an artisan every time he accepts a new plough from that craftsman's hands. But then there will also be a second kind of payment, 3 more measures as a yearly retainer. In return for that the artisan must keep that farmer's existing ploughs in good repair. And finally, a farmer must supply his artisan-ally with enough dairy produce to sustain his family comfortably. The artisans show their respect to Vishnu and promise to obey his words.
Click here for more information.