WHY HAVE ALL THESE TREES BEEN FELLED?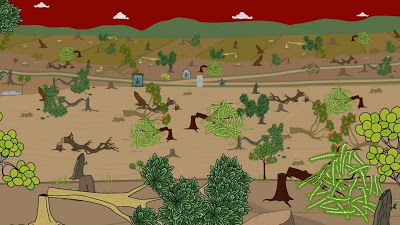 This short and simple video excerpt is included here as a set of add-on comments that build on
my last blog (1.22)
where one of the regularly repeated songs in the
The Legend of Ponnivala
epic is featured. That song speaks about the beauty of Ponnivala, its ripening fields of paddy and its lush, green landscape vistas. My commentary there suggested that this is an ideal image, a state of abundance that was likely never quite achieved. The Kongu area is an upland plain originally covered with what one might call "scrub forest."
In the Ponnivala story, the farmers' clan ancestor Kolatta first "wins" Vishnu's ritual contest. The outcome of that public event causes a major social earthquake: the independent artisans who previously enjoyed control of the lands of Ponnivala are displaced as its chieftains. They are shifted out of their former "seat" of control and transformed, via Vishnu's public covenent, into a subordinate group of service providers. Hence forth they will now be dependent on the farmers for their food supplies. But that is just half of the story. Now that Kolatta is free to begin his own life in Ponnivala he sets about the several kinds of physical work that will be needed to support such a major social change. His mission is to bring his piece of the Kongu area, Ponnivala, under the plow, so as to transform the area into lush food-producing tribute-paying region. After all, he has been sent here to follow up on a command to do this that was issued by the highest authority in the land, the Chola king himself.
Click

here

for more information.