WHAT HAS HAPPENED TO THE SOCIAL STATUS OF THE ARTISANS?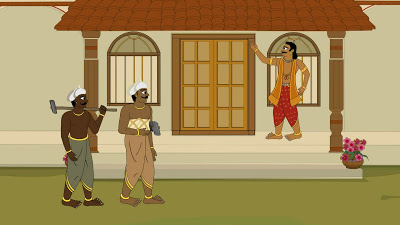 In the last clip (blog post 1.25) we saw the Chola's cows eating their fill in Kolatta's fine sugarcane field. They then leave, as a group. They are still able to move undetected in the darkness of the night. But then the sun rises and the farmer-hero-pioneer sets out to check on his ripening cane (a short scene not shown here). As the present clip starts he arrives at his field and is horrified to find his fine sugarcane badly trampled..Many stalks have been chewed up as well. Kolatta is very upset by all this destruction. He is in such distress and so angered that he barely takes the time to ask himself what animal(s) could have caused so much damage? He quickly turns and calls his watchman. He demands that the artisans be called and brought to him immediately. A fence must be built. This invasion has to be stopped!
Click here for more information.