WHY IS THIS SCRIBE WRITING NOTES IN THE KING'S COW SHED?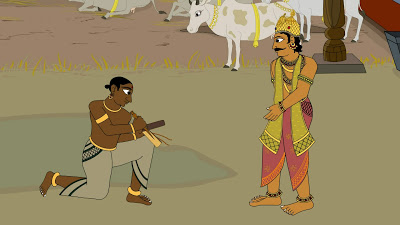 This clip presents a rather unique set of scenes. There has been a sudden and severe famine in the Chola's kingdom. Interestingly enough, this repeats a very similar disaster event that earlier befell the Vellivala area, the place where Kolatta and his eight brothers first tried to farm (see blog post 1.7?). Everything is dry, including the big water tank where much of the king's irrigation water was stored. As already noted, localized droughts were once commonplace occurrences., and their severity was considerably heightened due to poor food transport facilities. Nowadays food can easily be trucked into a locale where the rains have failed, but in earlier centuries this was not the case and people had to live (for the most part) with what was grown in their immediate vicinity. Even someone as powerful as the Chola king could fall victim to a random bout of ecological misfortune like this. The soil is so hard that the king's workers cannot get their plow tips to penetrate it. There is not even enough fodder left in the land to feed the king's twelve favourite cows!
Click here for more information.