WHY IS THIS COW CALLING OUT IN DISTRESS?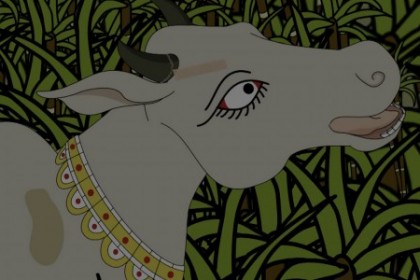 As this Legend of Ponnivala clip opens we see the group of "sacred" and wandering cows, all hungry, emerging from the forest again on a second night. They remember that lush sugarcane field where they dined in secret yesterday and are planning to repeat the same adventure once again. But as they approach the field the lead cow notices that a fence has been built. She warns her "sisters" by saying: "Watch out! Look at that fence!" She then adds a very poignant question: "What kind of landowner would do this to us?" A second cow now chimes in with: "How can anyone be so mean?" However, a third sister remains undaunted. That cow speaks up and bravely states: "That fencing doesn't look too high. I think we can all jump over it!"
Click here for more information.