HOW DOES A LEAD ARTISAN RESPOND TO THE KING'S PROPOSAL?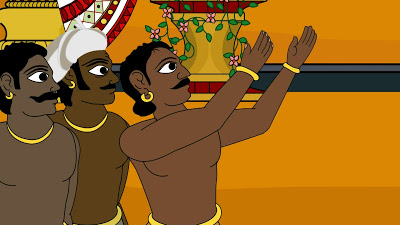 This blog continues where my 1.13 post left off. Here we see that the artisans who have been called to the Chola king's court have dutifully traveled all the way from Ponnivala to appear before him. The audience of onlookers fills the room. Representatives of those 56 powerful agricultural families mentioned in my last blog are surely there. Territorial rights are very important to them and they want to see the king back the farmers in the stand-off they expect to witness between their King's nine loyal ploughmen and the Ponnivala delegation.
Click here for more information.