WHAT SOLUTION DOES LORD VISHNU PROPOSE TO THE WORRIED KING?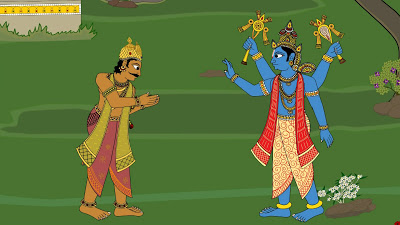 The Chola king is faced with a difficult political problem. He wants to send a group of his best plough-wielding farm workers to Ponnivala, an outlying area where he has little control. He wants them to settle there and bring the land under cultivation by cutting down trees and creating a wide open, fertile landscape. Essentially he wants to create a new area yielding economically valuable crops that he can tax. But the artisans who are living in the area now (and probably have been there from time immemorial) are refusing to allow this. They currently control the territory and they want to keep it that way. Short of going to war and trying to conquer the area, what can this Chola king do? Answer: He calls upon Lord Vishnu for support!
Click here for more information.