WHAT ALLOWS THIS FARMER TO ESCAPE HARM?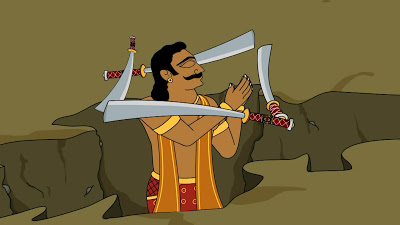 This next clip begins with a view of the neat layout of eighteen ritual offerings on a large cloth. Soon several artisan arms (that we know belong to the artisan's side in this contest) are then seen picking up the four swords lying there. But now the scene is interrupted by a brief conversation. In this exchange, the words spoken between two lead artisans, both holding swords, provides reinforcement for several points made in my last blog. In this conversation we hear the artisan who is closest to the viewer express anxiety by saying "Oh, this will be tough!" He then asks his associate sword thrower what plan he thinks Lord Vishnu has in mind. Of course his query implies that there may already be some grand scheme or outcome in place. The second artisan then replies, "I don't know, but whatever it is, it must be for the good of all!" This settles the issue. As anxious as they may be, the artisans' have now expressed their consent. Whatever will happen in the contest ahead they will not question it, let alone voice any suspicion that the outcome has already been "fixed." These men are trapped by circumstance. Perhaps "fate" is the right word to use here. Vishnu will steer this event to its conclusion. The will of this great god is going to rule, no matter what. The artisans will try to cut off Kolatta's head as he rises out of the earth, but realistically, their heroic efforts are very unlikely to affect the outcome.
Click here for more information.