Legend of Ponnivala: Death and the Queen — now an official entry at MOSAIC International South Asian Film Festival of Mississauga 2012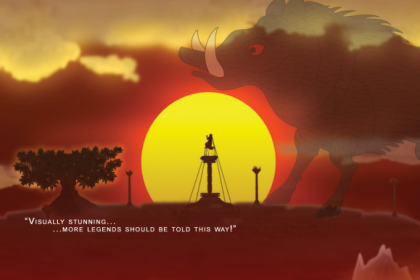 The Sophia Hilton Foundation of Canada and Soft Science Associates are thrilled to announce the premiere of their new animated feature, Death and the Queen, at the Mosaic South Asian Heritage Festival, Saturday, August 18, 2012, 2:30PM at the Noel Ryan Theatre in Mississauga.
Download full colour (PDF) posters:
Small (5.04 x 8.92 inches): Click here (12 MB)
Medium (10.10 x 17.85 inches): Click Here (34 MB)
Large (20.19 x 35.69 inches): Click Here (101 MB)
Letter Size (8.5 x 11 inches): Click Here (2.5 MB)
Legal Size (8.5 x 14 inches): Click Here (14 MB)
Top and bottom letterbox borders (black area only) may be cropped for publishing.
Death and the Queen is an animated tale excerpted from the much larger Legend of Ponnivala epic, which is based on an ancient South-Indian legend known as the Annanmar Kathai or "Elder Brothers' Story." It tells the tale of a local queen named Tamarai who must travel to the gates of Heaven to plead with the Hindu god Shiva. She wants him to lift a family curse of barrenness. With the burden lifted, her sons—the folk heroes Ponnar and Shankar—are born. In an effort to glorify their family and heir kingdom (Ponnivalanadu), these twin kings face combat with ferocious beasts and fierce warriors, until fate reclaims them and returns their spirits to Lord Shiva at just sixteen years of age.